Custom Brass Extrusion
Gambo Industry's brass extrusion plant specializing in production brass extrusions and cold-draw tubes. We has a complete production line of brass melting, extrusion, heat treatment, straightening and polishing.
We also have the ability to make a variety of in-house die and tooling in a fully equipped machine shop. Our tooling experts work with our customers to make their designs most efficient for the process.
This collaboration early in the design process ensures a cost-effective product. In addition our other departments include inspection, packaging and warehouse to ensure that our customers receive satisfactory products every time. Our team has many years of experienced in all aspects of production and marketing.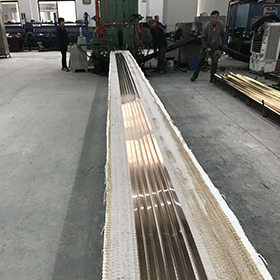 The Custom Brass Extrusions are simple or complex shapes including thin wall shapes ( also known as profiles, or sections), made from architectural bronze, free-cutting brass (C38500 or Hpb58-2), the applications include windows and doors, hardware, lighting, brass elevator threshold plates & sills, handrails and art work.
Besides brass extrusions Gambo Industry also provide continuous cast brass rod, continuous cast brass tube and cold draw copper/brass tubes.
For more information please visit Gambo Metals